About Michelle Harnsberger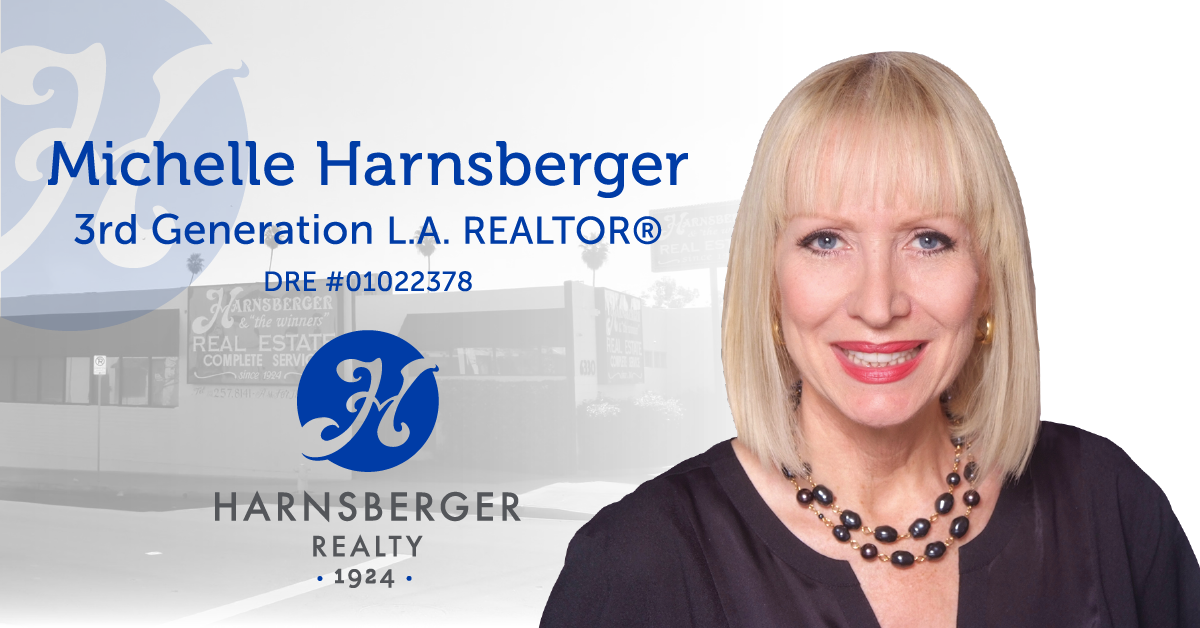 Michelle Harnsberger is a veteran REALTOR with over 35 years of experience and an unparalleled reputation in the industry. This third-generation realtor, and owner-operator of one of LA's oldest brokerage firms founded by her grandmother in 1924, happily took the reigns of the family business and has continued to be empowered knowing she's been able to share her vast knowledge with her clients.

All her clients, who are hugely loyal to Michelle, have used her services over and over as their real estate needs changed, and constantly referred her to friends and family over the years. This is a true testament to the high level of quality, professionalism, dedication and attention she exhibits in her work.

Real estate has been in Michelle's blood all her life. This Los Angeles native officially started working in the field at the age of 10, answering office phones. She went on to study real estate law, excel in residential and commercial sales, appear in a national real estate commercial, and become a Certified Negotiator. Michelle holds both California and Hawaii real estate sales licenses. She owns real estate within the neighborhoods she represents, plus has earned numerous LA City awards for her community participation in these communities, which are primarily Downtown LA, Highland Park, Garvanza, Eagle Rock and Mt. Washington.


In addition to managing a team of real estate agents and overseeing operations, Michelle works directly with family trusts, trustees/sellers of single-family residential, multifamily, fixer-uppers and commercial properties, plus helps investors maximize their real estate portfolio by achieving top dollar.

A local LA resident, Michelle has deep roots in her community and has supported many local causes. Her multiple awards for her involvement include the City of Los Angeles Certificate of Honor for building Garvanza Skate Park, and the Los Angeles AARP Convention for her volunteer service to our country's veterans. Michelle followed in her mother's footsteps to build participation for the Chamber of Commerce as well, plus ran the local Christmas Parade for kids and started an anti-graffiti program to promote arts over gangs. She was also recently on the board representing Mt. Washington Homeowners.


Michelle Harnsberger
Direct Tel 1+ 323.256.3132
Email | michelle@HRealty1924.com
CalBRE Lic. No. 01022378


THINKING OF SELLING? Call Today!